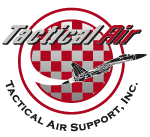 Website TacticalAirUS Tactical Air Support, Inc.
It's Not Who We Are It's What We Do
Position: Procurement Specialist
Location: Reno/Stead, Nevada
Description:Tactical Air is seeking an experienced Procurement Specialist to join our team .

The goal of this position is to ensure that the supply chain needs of the integrated logistics department and ongoing functionality of aircraft maintenance are met in a timely and cost-effective manner and to work with leadership in developing a comprehensive logistics support network of industry leaders. The Procurement Specialist position is an integral part of a team of professionals who get things done, enjoy working together, and are committed to growing with this fast-moving company.
The ideal candidate for the Procurement Specialist position will be highly experienced, professional, disciplined, team-oriented, and responsive to the needs of the company, colleagues, and customers with a strong background and interest in logistical support and supply chain management in support of aircraft and flight operations. This position reports to the Director of Logistics and will be responsible to review costs, develop relationships with vendors and suppliers, evaluate suppliers to find best deals and terms, and offer suggestions on purchasing strategies. This position will provide support to assist in preparation and analysis of vendor contracts and will work closely with all areas of air and ground operations and accounting/finance. The successful Procurement Specialist must be familiar with Environmental, Health, and Safety regulations, policies, and mandated Quality Assurance, Security, Explosive Safety, and other applicable company program requirements.

Experience: Combination of training, education, and experience in a purchasing role in with a focus on aircraft operations  aircraft/aviation supply.  Background and experience in large-scale government contracting; continuous process improvement systems such as Lean Six Sigma Green Belt and/or ISO9000/AS9100 ; and familiary with Individual Material Readiness List (IMRL) and Support Equipment Requirements and Management Information System (SERMIS) advantageous.
Education / Qualifications: Bachelor's degree in Business Administration, Supply Chain Management, or Business Analytics, or related discipline preferred; certifications in purchasing or supply chain advantageous.
Clearance: Must be lawfully eligible to work in the United States and complete a U.S. government I-9 Form. Eligibility for a U.S. government security clearance may be required. Regular travel to various work sites in the U.S. may be required.
To Apply: Please submit a cover letter (optional), current resume/CV, and completed Employment Application.
For More Information Click Here: Procurement Specialist Profile_Reno 5.21.2020
Please Download the Application Here: TAS Employment Application
Please Download the Required Self-Identification Forms Here: TAS Self Identification Forms