Written By: RC Thompson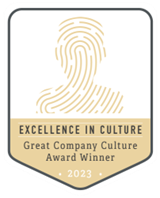 Tactical Air has won the "Excellence in Culture Award" for the second year in a row.  This award is a direct result from the PROGRESS CHECK CULTURE SURVEY '23 that TAS employees recently completed. It celebrates organizations where employees look forward to coming to work, and more importantly an organization where all feel purpose and have an opportunity to grow professionally.
Based directly on Tactical Air employee survey responses, TAS employees indicated that they are likely to have strong relationships, high accountability, clear alignment, consistent communication, and full capability to work and perform at their best. Tactical Air is trying very hard to make this company one that the employees are proud to work for and one that they enjoy coming to work at each day. Although Tactical Air is happy with this recognition, they will continue their efforts to improve and will strive to make Tactical Air Support an Employer of Choice within the industry!