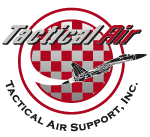 Website TacticalAirUS Tactical Air Support, Inc.
It's Not What We Do It's How We Do It
Position: Lead Aircraft Mechanical Engineer
Location: Reno/Stead, Nevada
Description:Tactical Air is seeking an experienced Lead Aircraft Mechanical Engineer to join our Air Operations team .

The goal of this position is to develop and provide aircraft for Contract Air Services (CAS) support of U.S. military training. The Lead Aircraft Mechanical Engineer position is an integral part of a team of professionals who get things done, enjoy working together, and are committed to growing with this fast-moving company.
The ideal candidate for the Lead Aircraft Mechanical Engineer position will be highly experienced, professional, disciplined, team-oriented, technically astute, and responsive to the needs of the company, colleagues, and Department of Defense (DoD) customers. Reporting to the Chief Engineer, this position is vital to Tactical Air's ongoing viability and performance by ensuring production and availability of CAS aircraft. The Lead Aircraft Mechanical Engineer will execute engineering design, development, test, and analysis of aircraft and structures to include Tactical Air's F-5E/F Advanced Tiger (F-5ATTM) and
CF-5D series aircraft. This position will be part of a ground-breaking team blazing new paths for its customers in the Adversary Aircraft Fighter mission.

Experience: Combination of training, education, and experience working in aerospace, defense, or federal contractor industry with background of updating and modifying aircraft and aircraft systems including:

designing mechanical drawings, structural analysis, and general arrangements utilizing software-aided design tools;
instrumentation and data collection systems; transparencies and sensor windows; and aerodynamic fairings;
sound engineering principles, testing, analysis, and reporting.
Education / Qualifications: Bachelor's degree and education specific to mechanical or aerospace engineering preferred.
Clearance: Must be lawfully eligible to work in the United States and complete a U.S. government I-9 Form. Current U.S. government security clearance required. Regular travel to various work sites in the U.S. may be required. This position is subject to pre-employment and/or random drug/alcohol screening (including for marijuana).
To Apply: Please submit a cover letter (optional), current resume/CV, and completed Employment Application.
For More Information Click Here: Lead Aircraft Mechanical Engineer
Please Download the Application Here: TAS Employment Application
Please Download the Required Self-Identification Forms Here: TAS Self Identification Forms