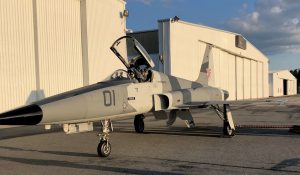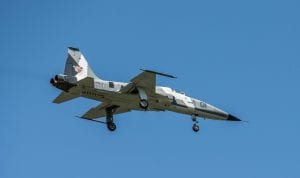 Saint Augustine, FL
Tactical Air Support, Inc. completed the F-5E/F Program Airworthiness Certification, with FAA Certification of aircraft N791TA on 25 April, 2018 and completed the mandatory follow-on Phase 1 flight test hours at Jacksonville International Airport on 27 April, 2018.  The purpose of the Functional Check Flights is to satisfy requirements set forth in the FAA's Special Airworthiness Certificate's Operating Limitations.  The end state is to ensure the aircraft is controllable throughout its normal range of speeds and throughout all maneuvers to be executed, has no hazardous operating characteristics or design features, and is safe for operation.
While Tactical Air has completed Airworthiness Certification on other F-5 models, this is the first of the recently imported Jordanian Air Force F-5E/F fleet. After completing reassembly, rigging, inspection and paint at Northrop Grumman, and final modifications from Tactical Air maintenance, aircraft N791TA, completed one ground test event and 6 Functional Check Flights. The flights were designed to build up from "first flight gear down only" to execution of a full 'A' card functional check flight.  All basic aircraft performance, flight control, and handling qualities were examined throughout the entire performance envelope including 50,000 feet and 1.5 Mach. All installed avionics were checked for proper operation.   First flight test pilot, Zach Mosedale reported, "This is a great flying jet. In 2500 hours of F-5 flight, these are possibly the strongest engines I've seen." By the end of 27 April's first day of flying, N791TA was 5 for 5 sorties scheduled and flown for a total of 8.3 hours.  Rick Seley, Tactical Air's Director of Logistics and Program Support, commented, "In my 43 years of maintaining fighters I've never seen anything like that…. never even heard of anything quite like that.  As impressive as that is, more importantly this is a sign of great things to come. It's a very solid indicator that we put our money on the right airframe! I honestly believe that this will be the norm as we move forward."
Following completion of the certification process, the F-5E/F fleet will relocate to Tactical Air's West Coast facility at Reno-Stead Airport in Reno, Nevada where they will undergo further avionics upgrades to transform into 21st century adversary air platforms for Tactical Air's Commercial Air Services support to USAF operational test, training and tactics development squadrons.
As noted by CEO, RC Thompson, "this Phase I flight test clearly validates our decision to operate the F-5. TA-01 had not flown in over five years, yet the airplane just flew 6 sorties and ten hours in a day and a half, with no discrepancies. With this certification process now completed we can quickly return the remaining 20 of our F-5E/F fleet back to certified flight status."
About Tactical Air Support, Inc.
Tactical Air Support Inc. is a leader in commercial air services, tactical aviation training, and technical advisory services for the US Military and our International partners.  Tactical Air owns the largest operational fleet of supersonic fighter aircraft in the commercial air services industry.  Since its inception in 2005, Tactical Air has continuously applied innovative business practices to provide the government and aviation industry unparalleled, yet affordable commercial air support and tactical consulting. The Tactical Air team brings the industry's finest cadre of proven leaders and aviators paired with one of the world's largest fleets of sustainable, safe, and upgraded F-5E/F Tiger II aircraft.  Our diverse staff consists of former Weapons School Instructors and Graduates, Operational Aviators, Adversaries and Test Pilots, Astronauts, Air Battle Managers, and Aviation Maintenance professionals.