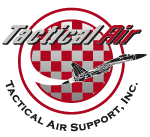 Website TacticalAirUS Tactical Air Support, Inc.
It's Not What We Do It's How We Do It
Position: Payroll & Benefits Specialist
Location: Lexington Park, Maryland
Description:Tactical Air is seeking an experienced Payroll & Benefits Specialist to join our Finance & HR teams.

The goal of this position is to provide efficient and reliable support of payroll and benefits administration and to serve as the company's subject matter expert for payroll and benefits. The Payroll & Benefits Specialist position is an integral part of a team of professionals who get things done, enjoy working together, and are committed to growing with this fast-moving company.
The ideal candidate for the Payroll & Benefits Specialist position will be professional, highly productive, disciplined, team-oriented, technically astute, and responsive to the needs of the company and colleagues. Reporting to the Financial Controller and the Director of Human Resources, this position is vital to Tactical Air's ongoing viability and performance by ensuring payroll and benefits are managed in compliance with plan contracts, federal regulations, multi-state and local regulations, and company policies. This position will be responsible for developing, implementing, and monitoring all systems; performing internal audit and control procedures; and processing all wages, taxes, and benefits accurately and timely.

Experience: Combination of training, education, and experience in basic human resources, payroll practices, benefits administration, compliance, or other related experience; familiarity with DoD federal contracting, DCAA/DCMA government accounting, and the aerospace/defense industry advantageous.
Education / Qualifications: Bachelor's degree  in Accounting, Finance, Business Administration, or related discipline preferred. Certification in payroll systems and benefits specialties preferred.
Clearance: Must be lawfully eligible to work in the United States and complete a U.S. government I-9 Form. Eligible to obtain U.S. government security clearance.
To Apply: Please submit a cover letter (optional), current resume/CV, and completed Employment Application.
For More Information Click Here: Payroll & Benefits Specialist
Please Download the Application Here: TAS Employment Application
Please Download the Required Self-Identification Forms Here: TAS Self Identification Forms