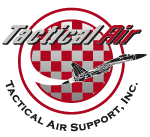 Website TacticalAirUS Tactical Air Support, Inc.
It's Not What We Do It's How We Do It
Position: Senior Contracts Administrator
Location: Lexington Park, Maryland
Description:Tactical Air is seeking an experienced Senior Contracts Administrator to join our compliance team.

The goal of this position is to support Tactical Air's contract and government compliance requirements. The Senior Contracts Administrator position is an integral part of a team of professionals who get things done, enjoy working together, and are committed to growing with this fast-moving company.
The ideal candidate for the Senior Contracts Administrator position will be professional, highly productive, disciplined, team-oriented, technically astute, and responsive to the needs of the company, colleagues, and customers. Reporting to the AVP/Contracts, this position is vital to Tactical Air's ongoing viability and performance and will be responsible to oversee and monitor contracts, assist in key negotiations, identify risks, and support preparation of proposals. This position will support the technical and functional administration of prime/subprime contracts and ensure compliance with government regulations and company procedures. The Senior Contracts Administrator will perform a variety of duties such as cradle-to-grave contract administration support for government contracts (CPFF, FFP, T&M), export compliance, purchase orders, and application of contractual clauses.

Experience: Combination of training, education, and experience in government contracts, negotiation, full life-cycle (cradle-to-grave) contract management/contract types; familiarity with Department of Defense (DoD) federal contractors and the aerospace/defense industry advantageous.
Education / Qualifications: Bachelor's degree  in Business Administration, Finance, or related discipline; advanced degree preferred. CPCM, CFCM, CCCM certification preferred.
Clearance: Must be lawfully eligible to work in the United States and complete a U.S. government I-9 Form. Eligible to obtain U.S. government security clearance.
To Apply: Please submit a cover letter (optional), current resume/CV, and completed Employment Application.
For More Information Click Here: Senior Contracts Administrator
Please Download the Application Here: TAS Employment Application
Please Download the Required Self-Identification Forms Here: TAS Self Identification Forms